APPRETICESHIP WFL
Best in Form bei WFL...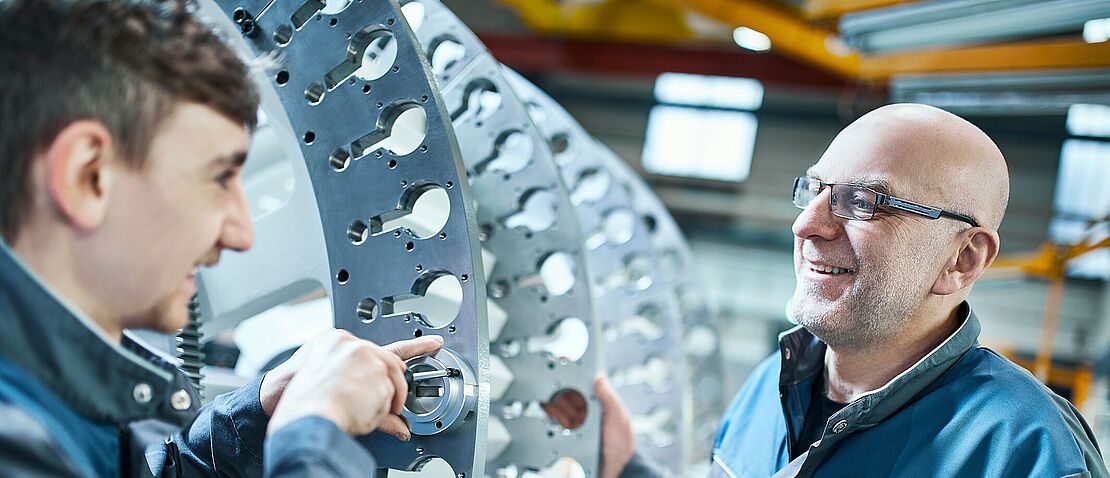 Sports cars, aeroplanes, turbines, wind turbines,... many of the products that create excitement and fascination contain parts that are manufactured on our machines. As the world's #1 supplier of complete machining solutions, WFL Millturn Technologies is the only manufacturer that focuses exclusively on the production of multifunctional turning, drilling and milling centres.
As part of a team of experts, we will train you, our apprentice, on the cutting edge of technology. With your training and skills, you will be well prepared for the challenges ahead in your professional life at WFL. WFL has received the i n e o award as an Exemplary Apprentice Company in 2019
We offer...

Top training

Renowned apprentice workshop

Performance-based payment

Apprentice compensation, bonuses

Flexibility

Insight into several departments

Additional training opportunities

Promotion of personal skills

Benefits

Central location and good transport connections
Combined training at WFL and in the largest and most renowned apprentice workshop in Austria
Insight into several departments
Promotion of personal skills
Preparation for the apprenticeship-leave exam at WFL and in the apprentice workshop
Premiums for exceptional performance
Use of the Caseli canteen including meal allowance
Company health promotionTeambuilding activities e.g.: Apprentice camps
Provision and cleaning of work clothes
Apprentice parents' evening for your parents
Support on special topics from the youth council
Possibility of being taken on after the apprenticeship period.

We train the following apprenticeships in the company:
Mechatronics engineer
(3 ½ years apprenticeship)
As a mechatronic engineer, you will be employed in the machine construction, electrical engineering/electronics and information technology fields. Mechatronics engineers work on interdisciplinary topics and problems. New technologies, machines and systems, processors, control and regulatory systems, industry robots and much more are developed as a result. Other tasks include the commissioning and installation of the machine at home and abroad. Your high degree of flexibility is a prerequisite for these activities.
Machine tools technician
(3 ½ years apprenticeship)
As a machine tools technician, you will maintain the mechanical, pneumatic and hydraulic components of our operation and production systems. Installation of the machine on the client's premises is your main task. You are a team player, who bears a lot of autonomous responsibility and acts with technical skill, spatial vision, keen perception and logical thinking.
Application engineer
(3 ½ years period of apprenticeship)
As an application engineer, you manufacture metal components using machining methods. These include e.g. turning, drilling, mililng, filing, grinding or sawing. Application engineers manufacture workpieces on computer-controlled CNC systems, create programs for various workpieces on the PC and workout the tools. You plan the work steps, select the materials and check the quality of the finished parts.
Industrial management assistant
(3 years apprenticeship)
As an industrial management assistant, in finance, you will deal with costing and performance accounting, in sales, you will develop offers and in production, you will be responsible for processing and production procedures. As an industrial management assistant, you will be responsible for all possible tasks in the industrial management department. Industrial management assistants are seen as an important interface and switch point in the company, as they communicate with customers, suppliers and employees.
Best in Form at WFL...
WFL Millturn Technologies GmbH & Co. KG
Wahringerstraße 36, 4030 Linz