FLANX I CRANX
Programming made easy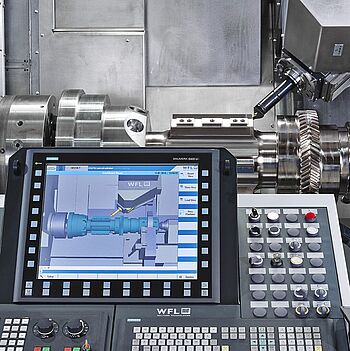 The technology cycles of WFL cover an extremely broad range of standard and special technologies for all conceivable cases of application. These program modules, which only require the input of parameters, make it possible to carry out efficient programming directly on the machine control or on a PC. The program can therefore be created for both complex and simple workpieces within the shortest period of time.

The technology cycles of WFL simplify the programming considerably and are a direct route to achieving the desired production result. The wide range of technology solutions fulfils all machining requirements.
CRANX
Machining and feed out
Cycle packages for crankshaft machining, for complex multi-axis machining with feed out tools or for a workpiece finish using grinding clearly show: due to a needs-based cycle configuration, branch-specific requirements are handled quickly and efficiently.
Cycle selection
Utronix (virtual U-axis)
Cranx-Basic (basic crankshaft package)
Cranx-Advanced (extended crankshaft package)
Cranx-Plus (complete crankshaft package)
Function package for rotating feed out tools (tools for U-axis)
From filigree internal gears with high accuracy requirements to large external gears, which require high roughing efficiency - WFL offers the appropriate technological solution for every gear cutting.
Cycle selection
Flanx-Hob (for gear hobbing of external gears)
Flanx-Spline (for shaping of external and internal gears)
Flanx-Plus (Flanx-Hob and Flanx-Spline as a cycle package)
Flanx-LM (for milling of large gears with standard milling tools)
Flanx-Invo (for milling of external gears)