Looking back on the WFL Technology Meeting 2022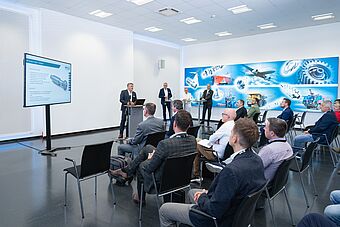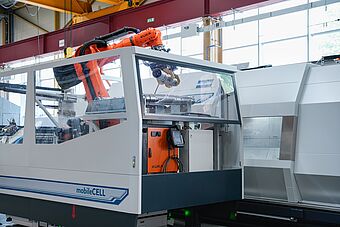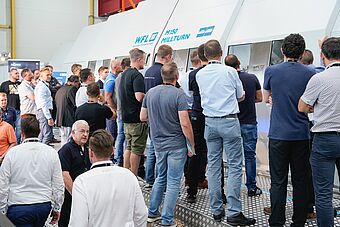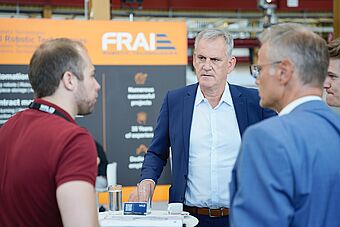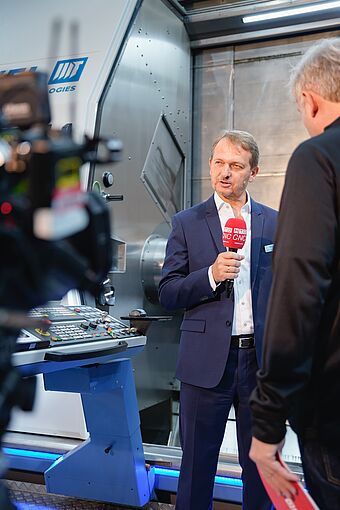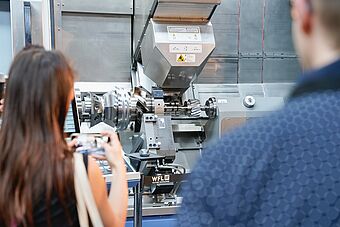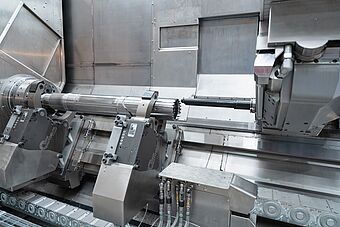 The traditional WFL Technology Meeting took place in Linz from June 21-23, 2022. Live machining on all MILLTURN machine types and the latest automation and software solutions were shown on an exhibition area of 4,000 m2. The program comprised exciting expert discussions and presentations on the pioneering trends and developments in the industry which were followed with great interest.
As the WFL in-house exhibition 2021 had to be cancelled due to the Covid-19 pandemic, it was even more delighting to welcome about 1000 visitors in Linz again. WFL is extremely pleased that so many showed their interest in the machines and technologies on display. Live machining of workpieces with a diameter of 100 mm to 1180 mm and a length of 150 mm to 5240 mm were presented during the exhibition.
The visitors could experience heavyweight machining on a M150 MILLTURN, screw machining on a M50 MILLTURN / 4500mm and the presentation of the latest machine: the M20-G MILLTURN, which not only scores with its performance, but also impresses in terms of operation and design. Especially concerning automation, there were many exciting topics to be discussed: bin picking, scanning and picking of unoriented workpieces, systems controlled by a host computer or interlinking of machines. A special highlight was the mobileCELL in combination with the M65 MILLTURN. The mobileCELL is a robot on an AGV (Automated Guided Vehicle) that loads and unloads tools, clamping devices and/or workpieces. With processing times between 30 and 60 minutes, the competitive advantage can be fully exploited with this solution and the customer retains the full degree of freedom. The system is also suitable for retrofitting automations.
Sustainability.
Sustainability is a very important point on WFL's agenda. It is not only important to have energy-efficient processes, but also to achieve the right ranking, since more and more customers are being assessed according to ESG criteria (Environmental Social Governance). WFL achieves these criteria through the technology used (e.g. energy-efficient drives) and the extremely efficient complete machining process. An optimal degree of utilization as well as the reduction of space costs, intermediate storage costs and quality control costs, and much more is guaranteed by the complete machining process.
Machines and technologies.
The modular system of the M150 MILLTURN has been expanded by revising the machine bed. The machine is ideally suited for workpiece weights of up to 25 tons, thanks to larger guide distances and dimensions and more powerful drives. The grinding of bearing points and roll-feed turning, a very efficient process for machining hard surfaces, where demonstrated on a roll from a steel mill. A large gearing with module 38 was milled at the right end of the workpiece. The workpiece did not have to be unloaded, but was measured directly in the machine. If necessary, a corresponding automatic correction is carried out for the programs and tools before finish-milling the gearing.
The M50 MILLTURN is the second machine type that has been fundamentally expanded. The machine can now be equipped with a more powerful turning-boring-milling unit, a larger tool system, larger tool magazines as well as longer tools with increased weight. The machine itself has also grown to a maximum center distance of 6000 mm. This means that there is hardly any configuration request that WFL cannot meet.
The M50 also has a few helpers on board: iJaw, a sensory clamping jaw by Röhm, ICOtronic, a sensory tool, and an automatically exchangeable ultrasonic probe measuring wall thickness at any point. This measuring probe recognizes and automatically compensates for deviations in the bore hole. Moreover, there is a completely new laser scanner which can also be automatically exchanged and allows scanning of any shapes and geometries on the workpiece as well as comparing the scanned surfaces with a target 3D model. A false-color image shows the extent to which the manufactured workpiece corresponds to the target model, and the color variations indicate how far the component deviates from the target geometry. A very interesting solution bearing huge potential.
Digitalization.
WFL continuously optimizes the machining processes in their machines. However, there are always interruptions requiring operator intervention, such as measurements and controls. It is important to minimize these interruptions to make best use of the availability and productivity of the machine. This is ensured by software packages in the machine control as well as additional intelligent clamping devices and tools automating the processes.
One of these tools is WFL iControl, the new process monitoring system. iControl directly processes signals coming from the machine or from external sensors, such as coolant flow rate, coolant pressure, vibration sensors in a boring bar or the clamping force of a clamping jaw.
Machine states are recorded with myWFL Cockpit. The program monitors override positions and logs program runtimes. This provides a constant overview of the machine's productivity and the variability of program runtimes.
myWFL Energy permanently measures and logs the machine's energy and compressed air consumption. This consumption can also be broken down into individual tools or process steps, allowing comparisons to be made.
myWFL Condition Monitoring enables the user to move spindles and axes by running an idle program at cyclical intervals. The program uses sensors to record forces and vibrations. Long-term evaluation shows, for example, whether there is an imminent change in the bearing or in one of the guide systems. This helps to avoid unforeseen downtimes and plan machine maintenance in a timely manner.
Successful in-house exhibition.
The visitors were impressed by the variety of machining options offered by WFL. Especially when it comes to machining complex workpieces, customers can rely on the high-quality technical expertise of WFL's employees. Manufacturers from many different industries came to WFL to discuss the technical requirements and possibilities for their manufacturing tasks. The visitors showed great interest in measurement technology, digitalization and automation to be well prepared for the future.
Back