M20, M20-G MILLTURN
Smart Machining
The M20 MILLTURN is the latest addition to the MILLTURN range and the ideal solution for users who are looking for a powerful complete machining centre. Special features include the high stability of the machine as well as a holistic motor spindle concept, which encompasses practically every machining technology.
Decades of expertise in complete machining have gone into the development of a completely new machine. Both the design and the technology are highly advanced.
The range of applications covered by the M20 is almost infinite. The machine is capable of carrying out demanding and complex machining tasks found in the aviation, automotive, engineering and plastics industries. Thanks to its extreme flexibility, the machine is also ideal for contract manufacturers.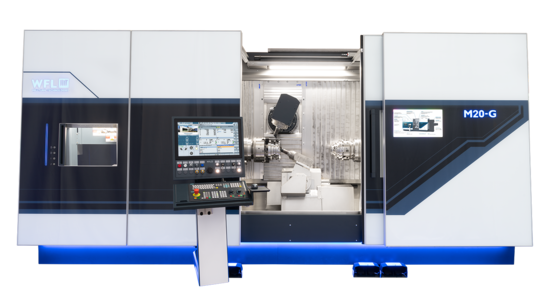 Design highlights
New, innovative and modern design
Machine frame made from spheroidal graphite for high stability and very good damping behaviour
Powerful and high-torque water-cooled motor spindles
Very small gaps in the lower slide systems, as there are no telescopic plates
Optional individual tool carrier at the bottom
Automatic workpiece transfer
Production cell with integrated loading and unloading
B-axis for turning-boring-milling unit with direct drive via watercooled torque motor for excellent dynamics
Technological highlights
Consistent 6-sided machining with counter spindle
Two B-axis systems in one machine for simultaneous B-axis turning
Perfect for gear skiving
Software highlights
Extensive sensor
24" multitouch display
Ergonomic operator panel
Optional performance data cockpit
| | | M20 | M20-G |
| --- | --- | --- | --- |
| Centre distance | mm | 1000 | 1000 |
| Swing diameter of top compound slide | mm | 500 | 500 |
| Max. turning diameter between centres | mm | 500 | 500 |
| Max. power, main spindle 40% at (100%) duty cycle | kW | 44(32) | 44(32) |
| Max. torque, main spindle 40% at (100%) duty cycle | Nm | 838(610) | 838(610) |
| Max. speed, main spindle | rpm | 4000 | 4000 |
| Max. power, milling spindle at 40% (100%) duty cycle | kW | 25(20) | 25(20) |
| Max. torque, milling spindle at 40% (100%) duty cycle | Nm | 110(85) | 110(85) |
| Max. speed, milling spindle | rpm | 20000 | 20000 |
| B-axis tilt angle | Degrees | +/-120 | +/-120 |
| Y-axis travel | mm | 260(+/-130) | 260(+/-130) |
| X-axis travel | mm | 575(-100...+475) | 575(-100...+475) |
| Tailstock | Type | MK5 | - |
| Tool magazine | Number | 80 | 80 |
| SIEMENS control | Type | SINUMERIK 840D sl | SINUMERIK 840D sl |