Setting sail with service – new management brings breath of fresh air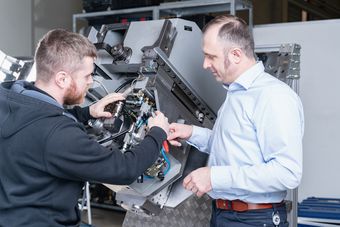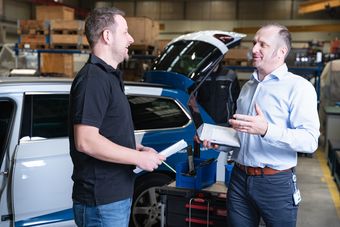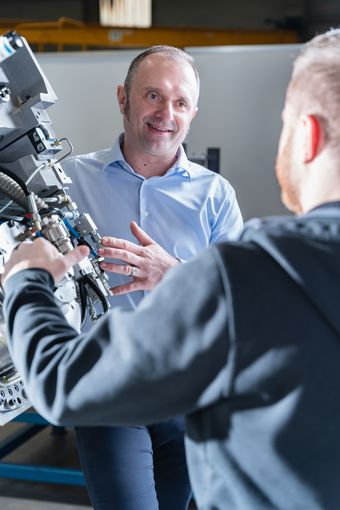 "I see everyone in this department as the 'supporter generation'. Everyone helps each other every day." - Roland Steingress
In sailing, it's important to remain steady and, above all, reliable. Consistently good performance means that no road is too long and no wave or problem too big, even in stormy times. By constantly working on yourself and developing, you'll never stray from the planned course. Teamwork is absolutely essential here, as it brings the high performance required in order to reach your goal. The WFL Service department has always been a shining beacon in the company. Nevertheless, an experienced team needs fresh impetus and new ideas. Roland Steingress is a new member of the WFL Service family. Long distances, communication and daily contact with customers are essential and the building blocks to successful work. In our latest edition of Complete magazine, we are once again exploring the area of customer service and shedding light on the general processes and future-oriented approach by and with Roland Steingress.
Please, tell us a bit about yourself, Mr Steingress.
My name is Roland Steingress and I come from a small town called Hohenzell in the Innviertel region of Austria. I grew up there and now have a family with two wonderful children and a great wife. In my career, I started out in the automotive sector as an apprentice car mechanic at BMW. After that, I took the examination for my master craftsman's certificate. In 1997, I started my job as Operations Manager at Hütter, where I took on the job of restructuring the company from the ground up. We built a new company building, planned interior work and recruited staff/customers who remained true to the company in the long term. During this very same restructuring process, I entered into discussions with BMW Austria, where, in 2005, I was able to continue my career at the Bavarian car manufacturer. My new role was to manage the After Sales department in western Austria for 27 BMW dealers. I focused specifically on customer satisfaction, loyalty and technical quality in the workshops. This helped me get promoted to Sales Administration, where I managed the Technical Support team, the Warranty department, the process area and the IT service for Austria. 2012 brought with it a consolidation – not just for Austria, but for Central and Eastern Europe too. This was a turning point and an eyeopener for me. New cultures, new languages and, above all, a wide range of different nationalities broadened my perspective. My mindset changed and pushed me to the decision to continue working internationally. This led me to my next job at KTM in 2017, where I led the Customer Service and Product Improvement departments. All of these roles ultimately led me to WFL.
What helped you make the decision to move to WFL, the global technology leader in complete machining?
It wasn't a spontaneous decision, and when I first arrived at the company I wasn't completely sure. But after an extremely impressive interview with the managing director and my first look at the WFL machines, something just clicked. It was precisely then that I knew it was a good fit and that this would be my new home.
How do you get started as a new, driving force, and where can you tap into new potential?
For preparation, I set myself small goals without knowing where the ones I was striving for actually were. On the first day, I sought out my expert colleagues and co-workers to have a chat. I introduced myself and tried to find out what the current situation was, where there was untapped potential, and where there were any issues. I absorbed these findings and planned my next course of action. How can the flow of information be improved, where is there even more potential, how can we make our processes more reliable, and which systems can help us? These were my initial thoughts and tasks, so to speak. One of my biggest concerns was to ensure smooth, friendly, fast and above all technically adept teamwork.
What does your typical day look like?
'Business as usual' is my morning motto. There are certain projects and milestones that you need to schedule and pursue. However, I really value having such a varied working day. In the morning, it may happen that jobs and priorities turn around in a matter of minutes. But this is why I love working in this area. Acting fast and being flexible above all are what make this work so interesting for me. I've always felt at home in after sales and wanted to make use of my years of experience when I came to WFL.
How do you find a balance after a tiring day at work?
On the one hand, I need a day filled with jobs to do, and on the other I have my family to balance things out. They are my absolute top priority. After that come friends and my current hobby project: motorcycle construction. I've just finished building my fifth bike by hand, following all the relevant vehicle criteria, and I completely forget the time while I'm doing it. I even have a small lathe, which I can use to build certain parts myself. As I already mentioned, I really value my dynamic working day at WFL and complement it with my family, friends and my hobby.
What makes the Service department so special?
I've come to really appreciate my colleagues at WFL in particular. They're so open, constructive and sometimes critical too. I really like that. You'll never win with a soft-line approach. I really value the proper, honest way of communication, as then you know exactly what you need to do next. I also love the friendly, open reception you get in the WFL team. Despite time pressures with customers and smaller issues, it's always lovely to see how the experienced Service team responds and handles certain matters in the right way and with a smile. I see everyone in this department as the 'supporter generation'. Everyone helps each other every day. This is the only way you can achieve your goals and deliver professional service even under huge pressure.
Where do your strengths lie and what do you value in your team?
The colleagues here are open, helpful, professional and are incredibly knowledgeable. Everyone here is incredibly motivated and friendly towards customers, and are very committed in this regard. My colleagues in Field Sales in particular travel all over the world. Whether it's minus 20 degrees or 40 degrees, our engineers do a great job – under very difficult circumstances. I'd like to highlight all of this and give a huge thank you to everyone.
How is your department divided up and how do you communicate with internal and external departments?
We have several organisational areas. On the one hand there is the spare parts: all orders regarding parts and parts availability as well as all offers to our customers are created here. All invoices and calculations also take place in this area. In addition, there is our hotline - i.e. the technical support. Among other things, we use Teleservice for this - a software that allows us to connect directly to the machines. This enables us to solve a large number of problems remotely or at least to narrow them down better. One of the main tasks is the planning and coordination of the field service engineers. After consultation with the departments, they report directly to the customer in order to get an idea of the current problems directly on site. Another important aspect is training, which I would like to push ahead with in the near future. It's important to train new colleagues and upskill existing staff.
Who or what comes to mind when you hear the word 'successful'?
One way of measuring success is in euros. That's definitely an important aspect when setting our objectives. In another vein, employee and customer satisfaction is an important contributor to success. To this end, we have a larger project with Salesforce in our pipeline. This will focus on generating customer satisfaction and making our interactions better/winning back former customers and fostering these 'new' relationships. It also aims to build up many loyal customer relationships and ensure that they are satisfied for the long term. For me, success is defined by the aspects mentioned above.
Do you have a personal vision for your time at WFL?
I am extremely happy at WFL and will pursue my set goals and implement them as best I can. It's really important to me that we work as a team in order to implement a multi-stage plan. I'm a big fan of psychologist Maslow, who talks about needs and motivation. These step-bystep plans mean that the objectives can only be achieved if the right foundations have been laid. There's no point in skipping steps and believing you'll reach your goal faster. It's important to build up projects slowly and properly from small to large. My goal and the future for me and my team is that we can work together in small, continuous steps and do top-quality work and stay extremely committed.
Back